Nieuws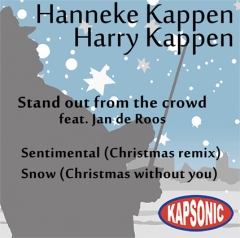 Vorige week is van Hanneke Kappen en Harry Kappen een bijzondere kerst ep met drie splinternieuwe kerstsongs verschenen.


Te beluisteren en te downloaden via: Itunes, CDbaby , Google play en Amazon.
Google play:
https://play.google.com/store/music/artist/Hanneke_Kappen_Harry_Kappen
iTunes: https://itunes.apple.com/us/album/stand-out-from-crowd-single/
De fysieke EP met oa "Stand out from the crowd" (feat. Jan (de) Roos) ligt te koop bij Plato en Elpee, bij de van de Velde boekwinkels, ook bij Boomker Boeken in Haren kun je hem vinden. En bij Henri Bloem en Tuingoed Folz. In Marc's kerstwinkeltje ligt ie ook te pronken. En, bij de VVV op de Grote Markt in Groningen.

Deze week was Hanneke te gast in Boven het Maaiveld op RTV Noord, met Cunera van Selm.
Harry en Hanneke deden daar ook Stand out from the Crowd.
Toeval wil dat Stand out from the Crowd betekent: steek je kop boven het maaiveld uit.

Hanneke en Harry maken als KappenenKappen deel uit van muziekcollectief Kapsonic (composers/producers/performers). In het voorjaar verschijnt hun album.
www.kapsonic.com
Leuke Engelse beschrijving van de muziek op de Kerst ep van KappenenKappen:
Three wonderful brand new Christmas songs by Hanneke Kappen and Harry Kappen. KappenenKappen are Dutch composers/producers/musicians.
-"Stand out from the Crowd" is a winter song feat. Jan de Roos, a legendary streetsinger. He used to sing in the streets of cities and villages in the North of Holland. His voice is unbelievable. Hanneke sings the story of his life. The song is inspired by "Jesus Blood Never Failed Me Yet" by Gavin Bryars, Tom Waits and an unknown streetsinger from Londen.
- "Sentimental, Christmas Remix" is a love song that should be listened to, lying on fur, in front of a fireplace, together with your loved one.
-"Snow" is a brand new Christmas song, that longs to be joined together with the great Christmas classics. Christmas without you is no Christmas at all.
Hanneke Kappen met gitarist Winfred Buma.
Forgetfull.


Op Youtube zijn sinds enige tijd veel opnames te vinden van White Honey, de band die maar kort bestond, maar een verbazend lange nawerking heeft.
Nothing going on in the City zette Groningen als muziekstad definitief op de kaart.

Met de band State of Soul maakte Hanneke het album: Love is a Strange Thing.
Daarop, met tekst van Hanneke en muziek van Gerry Arling: I do love you.
Single van het album was: I know it is.
Met The Human Electrics, (ook met Gerry Arling, Jeffrey Sopacua, Jeroen van Olphen) maakte ze het album: Under the Stars. Dit is: Find another fool.

Ook interessant zijn de opnames die Hanneke maakte met Eastgate, het project met bassist/componist Gerard Ammerlaan, gitarist Dick Rusticus, drummer Jeroen van Olphen en toetsenist Hans Kaldeway:
Shades, Marts, Inside, Skylark, Senuta.

Samen met pianist Boelo Klat maakte ze 2 albums: You & the Night & the Music, en Kappen & Klat. Op het album Kappen & Klat is naast jazzklassiekers een aantal gedichten te horen.
Een gedicht van Judith Herzberg: Hoe.
Chick Corea maar dan anders: In de stilte van de nacht.
Voor liefhebbers is hier een aflevering van Stampij te beluisteren. Stampij is het legendarische hardrockprogramma dat Hanneke in de jaren 80 presenteerde voor de KRO radio.
Stampij KRO juli 1981.